Review: Yours & Owls Festival, Dalton Park, Wollongong, NSW, Saturday, April 17th – Sunday, April 18th
It was always going to be an uphill battle for Wollongong's Yours & Owls Festival. As only one of two festivals granted approval to go ahead in NSW so far since COVID-19, there was a lot of weight on the organising team's shoulders. This only increased with the recent cancellation of Bluesfest on the day it was to begin.
Suddenly, Yours & Owls became the first major music event where punters were not consigned to pods or seats in over a year. It was a massive logistical challenge, with many eyes watching, but the festival rose above it all to pull off a victorious return for Australia's live music scene.
Spirits were high on Saturday as thousands of people made their way to Thomas Dalton Park. The festival had decided upon a unique set up to manage social distancing regulations: four zones, each with their own bars, bathrooms and food trucks, facing two stages that had slowly rotating floors.
The rotating aspect was novel way to solve the puzzle posed by the zones and was a recurring topic for stage banter over the weekend. Clowns and Adrian Eagle both commented on how they'd never seen something like it before, while it proved to be confusing for Jerome Farah who commented he didn't always know where the audience was.
Slowly Slowly joked that their rehearsal studio has a similar set up, and Hockey Dad's Billy Fleming admitted that he used to get sick on teacup rides when he was younger. While definitely an innovative way to do things for now, it doesn't feel like rotating stages are something we'll see at festivals post-COVID.
Love Classic Rock?
Get the latest Classic Rock news, features, updates and giveaways straight to your inbox Learn more
Those who made it to the festival early were rewarded with stellar performances from some of Australia's best up-and-coming acts. On Saturday, it was all about raucous rock and rap, with Canberra's Teen Jesus & The Jean Teaser's setting the bar high right from the beginning.
Cry Club came into their own after their gear malfunctioned during soundcheck, still managing to play a rowdy set to the growing crowd. Adrian Eagle was a highlight of the afternoon with his infectious happiness and soulful voice ringing out across the park. From having JK-47 return to the stage in one of many collaborations between acts throughout the weekend, to getting all sections of the crowd to chant "positivity", Eagle put on a truly great show. Similarly, Sunday saw some strong young acts take the stage.
Greta Stanley shone early on, enthralling the group of dedicated punters that had arrived by 12.30pm. There were not one but two of triple j's Unearthed High winners tearing up the stage: Teenage Joans and George Alice. Despite not being able to play for much of the last year, they all seemed comfortable on stage and showed why they'd beaten out tough competition to win Unearthed High. Jerome Farah was the king of crowd engagement though, running around the stage and charming each zone. Farah has a lot of personality and he was a genuine pleasure to watch.
One of the best parts of the festival were the Rad stages, where smaller acts played to passionate crowds. Shellharbour band LEFT SIDE FILTER were a highlight, filling the tent with their fuzzy rock. Later in the night Adam Newling had the crowd in the palm of his hand. His rowdy set was full of laughs, but underneath it was clear Newling is a seasoned perfomer. His lyrics are hard-hitting and his stage presence was mesmerising; those who hadn't seen him before were enamoured with him by the end.
The next day, Big Twisty & The Funk Nasty pulled a large audience to the Rad stage in the blue zone, to the point where COVID marshals had to step in and stop the set after just a few songs. After some drama in getting the show to stop, the boys jumped back on stage and continued on with their chaotic funk songs. Rolling with COVID regulation stoppages proved to be a common theme of the weekend.
Teething issues were to be expected given this was the first COVID-safe festival in NSW. Yours & Owls had been promoting the festival as dancing approved, which was true, but many punters seemed to think this meant moshing was approved too. Saturday saw the music stopped many times throughout the day to ensure everyone maintained social distancing by only dancing in front of a seat.
This only got worse as the sun set – by the time Tones And I took the stage there was the threat of the show stopping immediately and Sunday being cancelled if the crowd continued to try to mosh. Most people took this risk seriously, as it was obvious that it was the same people being told to go back to their seat every time.
Luckily, things calmed down towards the end and the heavy dance beats of What So Not were only interrupted a few times. The lesson was learnt by both the organisers and the crowd for Sunday; there was an increased security and police presence in the front of each zone, and there were fewer people intentionally pushing the boundaries.
Each evening brought a collection of Australia's best live acts onto the main stages. Although Winston Surfshirt's set was cut significantly short thanks to too many people dancing away from their seats, the set the band did manage to play was very impressive. DMA'S were also affected by a delay, but they made up for it tenfold with a string of hits including 'Criminals', 'The Glow' and of course, 'Delete'.
A surprise was promised by Tones And I, who was joined on stage by a talented crew of singers and dancers. She didn't disappoint. After a packed set, which included a new song dropping soon, her classic covers of Flume and Chet Faker's 'Drop the Game' and Outkast's 'Hey Ya', she launched into her final track 'Fly Away'.
The sky lit up with a barrage of fireworks midway through the song, underlining the specialness of being able to have an event like this. It was a uniting moment that left everyone buzzing for What So Not. As always, he delivered a raging set, walking the line between keeping everyone moving and risking another moshpit pretty well. A standout was his new collaboration with DMA's, dropping in the next few weeks.
On Sunday local heroes Hockey Dad made the most of a hometown crowd, with the crowd singing along to every single word from 'Germaphobe' to 'I Wanna Be Everybody'. Running Touch and Cosmos Midnight brought in the evening with their electronic soundscapes, both leaning heavily on the smoke machines to enhance the atmosphere. There was a resounding reminder why triple j's Like A Version is so popular in Lime Cordiale's set, with their cover of 'I Touch Myself' greeted with a cacophony from the crowd.
The final run of the festival was well planned, with Hayden James warming everyone up for headliner PNAU. With a new stage set up and some new mixes, James was back in his element. His set was punctuated with guest appearances from Nat Dunn and GRAACE, who both worked the crowd remarkably well.
This energy was carried by Kira Devine into PNAU's set, where she twisted and jumped across the stage. While the trippy stage visuals were pre-recorded rather than live feed, even glimpses of Kira were enough to amp up the crowd across the whole park. PNAU's set felt like a victory lap; Yours & Owls had managed to pull off the first successful festival in NSW since March 2020, and there was nothing left to do but dance.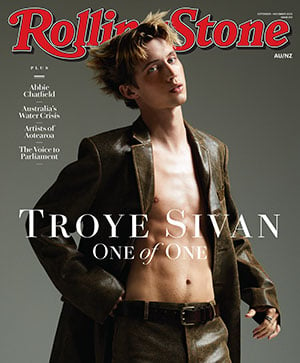 Get unlimited access to the coverage that shapes our culture.
Subscribe
to
Rolling Stone magazine
Subscribe
to
Rolling Stone magazine